What is 'sales progression' and why it's essential to the success of your sale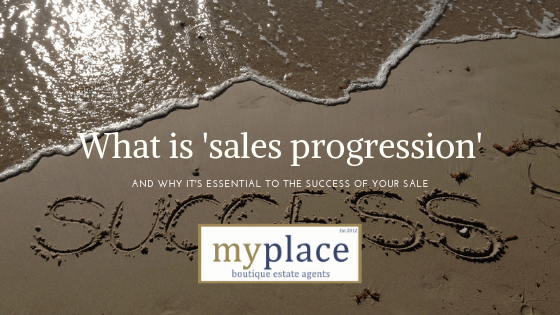 Imagine this, you've decided to hire a boat for you and your loved ones to enjoy. You're given the option of having an outboard motor on it, but you think, what's the point of that? I'll just pay for the basics, thank you very much.

You set out, everyone's excited. It's a new adventure. This is what you've all been waiting for. The weather's beautiful and all you want to do is get out on the water.

You launch your boat, and yes, it's a little trickier than you thought it would be, to get the boat where you want it to go. Rowing is harder than it looks too. But, hey-ho, spirits are high and it could be fun.

The morning passes and everyone starts to get hungry. Tempers start to get a little frayed. But, as luck would have it, you spot a cafe that has been recommended to you, so you stop there. Perfect. You've found just what you were looking for.

You're greeted by the friendly cafe owner, and everyone hops out to enjoy a delicious lunch. Laughter fills the air and all is good with life. You end up staying a little longer than you'd planned, but that's ok, you've all got full tummies and everyone's happy again.

Now it's time to head back. At first, the joy of having a replenishing lunch is keeping spirits high. But you soon realise you've come a little further than you originally wanted to. Your arms are getting tired, it's beginning to rain and you're feeling rather cold and fed up.

The joy and excitement of your adventure is rapidly slipping away and all you now want to do is to get back quickly and snuggle up in a cosy blanket with a hot chocolate.

When you eventually make it back to the boat owner, the light has faded and you all disembark feeling exhausted and battered. As you hand the boat back to the owner you remark, "Next time I'm definitely going to take you up on that offer of an outboard motor!"

What has this story got to do with selling your house? And how on earth is it relevant to 'sales progression'? The answer is simply that, the outboard motor, that you thought you didn't need, is the sales progression.
Our boutique service is designed to not only to take you on the adventure in search of your perfect buyer, but when things get more difficult, when emotions are running high and when you're feeling the fatigue, our experienced, professional team are there, keeping your sale steadfastly on track. Getting you through the unfamiliar, giving you the solutions and reassurance you need to get you a successful sale is our goal, which means we will always take care of you with a complete service, and never leave you tired and fed up, all at sea.

Exceptional sales progression will take you right through from finding your buyer, to successful sale and completion.

Don't be fooled, home moving is hard work, emotionally draining and at times incredibly frustrating. But, our experienced, professional team is here for you every step of the way. When the time is right for you to think about your move, give us a call, drop us an email, send us a message, whatever way works best for you. We're here for you, let's chat.